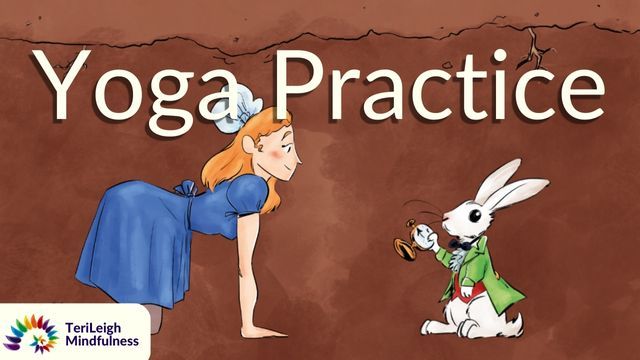 Over 300 Hours of
Audio Yoga Practices led by TeriLeigh
(live podcast recordings 2008-2018)
Over 300 live recorded yoga podcast practices from TeriLeigh's travels nationwide.



Access to ALL TeriLeigh's yoga practice collections (chakras, detox, 40 days, hip openers, etc.)



Bonus content: guided meditations, and chakra lectures.
When you accidentally-on-purpose found yourself in a yoga class, you followed a white rabbit yoga teacher into the twists and turns and tunnels of a world where the mundane became magical.

A home practice can be even MORE MAGICAL, and unlocking the tiny door at the bottom of the yoga rabbit hole can be scary because you don't know how to fit your big body through that tiny door.

This series of over 300 yoga podcast practices offer a spiritual insight to practice unlike those offered by any other teachers, and a perfect bridge from the studio to the home mat where you will eventually learn to be your own best teacher.
Teri Alice Leigh - Yoga Master
Teri Leigh fell down the yoga rabbit hole in 1999 and has maintained a home yoga practice for over 20 years. From 2008-2018 she traveled across the USA teaching over 200,000 students, and training over 200 yoga teachers. All while podcasting her live-recorded classes to amass a library of over 300 practices. Teri Leigh's writing teaching offers a unique and playful approach to turn in on yourself (like a telescope) and adventure through the wonderland you cannot find in any yoga class, podcast, or streamed practice.


Guaranteed Security using one of the most advanced encrypted systems on the market.
The information in this page is being processed and encrypted securely using industry-leading encryption and fraud prevention tools.
Created with